At Best Care, our mission is to provide resources for individuals to find quality home care services and offer reputable administrative services to caregivers in the Twin Cities. Today, we continue that same mission and strive to become Minnesota's #1 choice for family caregivers and those needing quality home care services.
So, we are pleased to announce that we have received the distinguished 2023 Best of Home Care® - Leader in Experience Award from HCP.
Who Is HCP?
HCP is the leading firm in experience management for home care. The Leader in Experience Award is its highest recognition and only goes to highly vetted home care businesses that consistently rank among the highest in 10 or more quality metrics. 
HCP believes that by honoring these providers, families looking for in-home care for a loved one will be able to recognize and choose a trusted home care provider.
As a Leader in Experience, we are now among the top 10% of home care providers participating in the nationwide HCP Experience Management Program.
Striving Toward Excellence
HCP interviewed 10% of our clients and caregivers each month for an entire year. During this time, we received high client and caregiver satisfaction ratings in the following areas: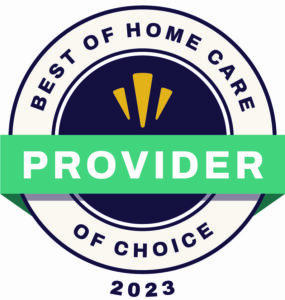 Using feedback from our clients and employees and the quality benchmarks from HCP, we set goals to reach the highest level of experience possible. And this award helps solidify that our team is on the right path forward.
We've always known there is something special here at Best Care and are pleased that the Best of Home Care® professionals agree! In addition to receiving 2023 Best of Home Care - Leader in Experience, we also were awarded the following:
Best of Home Care® - Provider of Choice

Best of Home Care® - Employer of Choice
In addition to these outstanding awards, our home care agency now ranks in the top 15% of all home care businesses participating in the  Experience Management Program.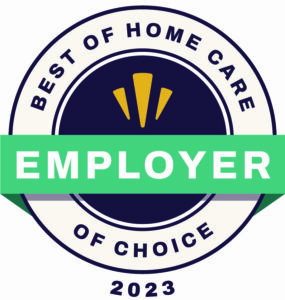 "When we see agencies like Best Care that have so effectively provided outstanding care and employment experiences, we know we're on the right track, said Todd Austin, President of HCP. "Best Care has worked extremely hard to prioritize high-quality care and employment, and their work hasn't gone unnoticed. This award allows them to show proof of quality to potential clients and caregivers." 
What's Next for Best Care?
We feel honored to receive these Best of Home Care® awards and privileged to continue our mission of connecting those in need of home care services to qualified personal care assistants. And we are committed to providing the support, resources, and tools family caregivers need to perform their essential responsibilities and receive compensation for their hard work!
We are proud of our incredible team, who is dedicated to providing excellent in-home care and genuinely making a difference in our local communities.
We look forward to serving our communities in 2023 and beyond!