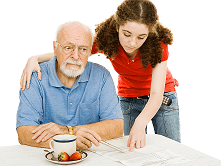 Making the decision to hire a personal care assistant (PCA) for you or a loved one can be challenging. Some may even mistake PCA healthcare as a threat to their dignity and a trivial addition to their livelihood. The fact is that in-home health care can simplify everyday tasks and help individuals live a longer, fuller life.
But when is the right time to look into hiring a personal career assistant? Here are a few questions to ask yourself or an aging loved one to help make that decision easier:
Do I struggle using the restroom or bathing myself?
Is it difficult to dress myself every morning?
Am I able to prepare food for myself regularly?
Do I have a hard time with mobility?
Have I recently sustained an injury or undergone surgery that makes daily activities more challenging?
Personal care assistance is not just for seniors, however. Children and young adults living with various diseases and disabilities can greatly benefit from the services offered by a PCA agency such as Best Home Care. In these instances, PCAs provide respite care that allows parents or guardians the freedom to go to their jobs, get groceries, and tend to other matters away from the home while giving the child the care and attention needed.
When considering hiring a PCA for a child, parents should ask these questions:
Have I had to miss a significant amount of work or quit my job in order to care for my child?
Is it difficult to find time during the week to run errands?
Has stress begun to put a strain on my relationships both within and outside of the home?
If you answered yes to any of these questions, consider Best Home Care. Our personal care assistants bring a high level of professionalism when providing in-home, supportive services for seniors and respite care services to parents of disabled children. Contact us today to discuss your situation and determine if hiring a personal care assistant is the right choice for you and your loved one.